Course Description
Product Include : 61 AVI, 1 PD..
Product Size : 10.3 GB
Delivery : Digital Download Immediately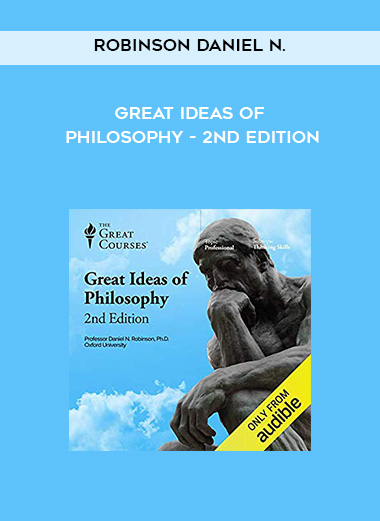 Preview
Arichive : Preview
Grasp the important ideas that have served as the backbone of philosophy across the ages with this extraordinary 60-lecture series. This is your opportunity to explore the enormous range of philosophical perspectives and ponder the most important and enduring of human questions – without spending your life poring over dense philosophical texts.
Professor Robinson guides you through more than 2,000 years of philosophical thinking and gives you a coherent, comprehensive, and beautifully articulated introduction to the great conversation of philosophy. Every lecture contains substance that can change your view of the world and its history.
You'll journey from the early philosophical ideas of Socrates, Plato, and Aristotle; chart the origins of Christian philosophy and investigate the Islamic scholars who preserved and extended Greek thought during the Middle Ages; and venture through Enlightenment contributions to philosophy, from Francis Bacon to Locke, Hume, Kant, Mill, and Adam Smith.
Then shift your attention to the modern era, where you see groundbreaking ideas like psychoanalysis, pragmatism, and nihilism, as well as the collision between the inherently social understanding of meaning created by Wittgenstein, the vastly different estimation of human thought developed by the code-breaking genius Alan Turing, and the subtle response to him made by the American philosopher John Searle.
While the lectures cover an enormous range of key thinkers and ideas, they always focus on the most important ideas. The result is a course that gives you everything you need to finally grasp humanity's exciting philosophical history – without years of intense academic study and piles of dense reading.
Audible Audiobook
Listening Length: 30 hours and 11 minutes
Program Type: Audiobook
Version: Original recording
Publisher: The Great Courses
Audible.com Release Date: July 8, 2013
Language: English, English
ASIN: B00DTO51JY