Course Description
Product Include : 13 – MP4«, 1 MP3,3 ebooks – PDF
Product Size : 1.7 GB
Delivery : Digital Download Immediately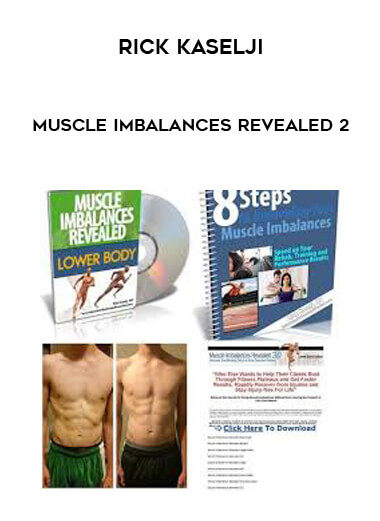 Preview
Arichive : Preview
My name is Rick Kaselj. I'm a world-renowned exercise and injuries expert and international fitness presenter. I have written industry leading exercise injury manuals, numerous articles that have appeared in major fitness association magazines and taught over 295 presentations to 5611 fitness professionals across Canada and the USA. (You can learn more about me and see a photo of me below.)
… But before I tell you all about me and how I can help you get you or your clients better, faster results and stay injury free for life, I want you to check out what all of these health & fitness professionals and exercise enthusiasts have to say about Muscle Imbalance Revealed:
Problem:Not Getting the Results You and Your Clients Want?
As a fellow health & fitness professional, I know we focus on strength, flexibility and cardiovascular techniques with our clients in order to help them reach their goals.
I've done this as well but what I was noticing was I was not getting the results my clients wanted.
Therefore I headed back to school to get my Masters Degree in Exercise Science with a focus on corrective exercise and therapeutic exercise.
I hoped this additional education and learning would be the missing piece to getting the results my clients were looking for.
Even after all this learning and money, I was getting better results but still I was not fully helping my clients improve their rehab, training and performance results.
I began to do more research to see what I was missing from my exercise toolbox when it came to getting the fastest and best results for my clients and myself.
Solution: Muscle Imbalances
The missing piece to my exercise toolbox was muscle imbalances.
I am not just talking about stretching what is tight, strengthening what is weak or just doing some corrective exercises.
Muscle imbalances are much more complicated than that.
Just focusing on three exercise techniques will limit how fast you and your client will reach your rehab, training and performance goals.
It is important to expand from those three basic exercise techniques in order to get faster performance results, bust through training plateaus, increase the speed of injury recovery and prevent injuries by moving you and your clients from imbalanced to balanced.
That is what led to Muscle Imbalances Revealed.
Problem: Seminars, Courses and Conferences are Expensive!
Fitness education is expensive.
Just a few weeks ago, I attended a weekend fitness course and it cost me $2000.
Ouch!
The cost of the course was only one of my expenses.
I also had to pay for:
– flight – taxi to and from the hotel
– hotel – meals (breakfast, snacks, lunch, dinner and drinks)
– gifts for the kids and wife
– I had to take time away from work and clients
When all is said and done, it cost me about $3202.
I have to say the material was good and I learned a few things but I could have learned all of it through video presentations.
Solution: Amazing Value!
The amazing value is a huge reason why I love video presentations and on-line learning.
I have been teaching "live" fitness education courses since 1999.
The biggest thing I love about video presentations, outside of convenience, is the cost of people attending a video presentation.
With video presentation you get all the benefits of attending a live seminar, course or conference at a fraction of the cost.
You get excellent information with a focus on assessment, unique information and exercises, not to mention you have the presentations so you can watch them over and over again.
Problem: Who Has Time to Read Research Articles, Huge Textbooks or Go to Seminars?
I know you are busy.
Fitness and health professionals work long hours and it is difficult to find the time or energy to sit down and read a textbook on exercise physiology or to look up the latest research articles.
With our weekdays full of training, training clients or leading bootcamp groups, it is difficult to find the desire to head to a seminar, course, or conference on the weekend.
Going to all those seminars, courses and conferences on the weekend leads to less time with family, friends and fun.
Who does not want more time with family, friends and having fun?
Solution: Sitting Back and Learning
Two years back, I discovered a way of sitting at my computer and having someone else teach me tips, tricks and exercises to help my clients and my training.
The way this was done was video presentations.
I know you may be asking "what is a video presentation?"
A video presentation is an online seminar that is focused on great practical information which you sit back and view on your PC, Mac, iPod or iPad.
I watch them on my 8 year old PC.
You are able to view the video presentation off the internet or download them to your computer or smart phone for viewing at another time.
Each presentation contains an outline of key information on an important topic, images explaining the topic, videos of the exercises and assessment recommendations.
With each of the video presentations you get a video recording, audio recording and handout that will work on your PC, Mac, iPod or iPad.
I know you might be thinking, I have watched video presentations before and could not download or burn the presentations to a DVD.
Most of the health & fitness education video presentations force you sit in front of your computer and watch the full presentation.
Often times you lose the internet connection to your computer and you have to start all over again.
This is very frustrating, a waste of time and very inconvenient.
Plus, most video presentations you can't download or burn onto a DVD – and you can't skip to the best part of the presentation as you would like.
This is NOT the case with the Muscle Imbalances Revealed. You can download, burn and skip to any part of the 8 upper body video presentations.
Problem: I Attended a Free Video Presentation and it Sucked!
I was at a fitness site and watched a free video presentation.
The free presentation did not have much substance to it.
I have watched numerous free presentations and have yet to watch one that was any good.
I find free presentations don't have content that you can use to help your clients or yourself.
They are often full of useless information or just promotion of expensive products.
Solution: Content Rich Information
The Muscle Imbalance Revealed video presentations are content rich presentations, that will help you get better results for your clients and yourself!
You will get tons of information on muscle imbalances for the upper body and exercises that you can use with your clients and yourself, right way.
The 4 presenters of the 8 video presentations, all provide you with a little background information but focus on assessment, exercises and tips & trips to help you get better rehab, training and performance results for your clients and yourself.
Problem: Getting Continuing Education Credits
I know at the end of the year I am always checking to see if I have enough Continuing Education Credits for all the associations I belong to. (I think I belong to about 6 associations).
It is nice to read fitness magazines, watch exercise DVDs and read journals but they don't help me get the stack of CEUs or CECs that I need.
Solution: 3 Simple Steps to Get CECs/CEUs
With Muscle Imbalances Revealed, you can earn CEUs, CECs and PDCs.
This is done in three easy steps.
Step 1 – You conveniently watch the content rich 7 hours of video presentations.
Step 2 – While watching, answer the multiple choice questions that come with the program.
Step 3 – Send us your exam, we will mark it and we will send you the CEU/CEC documentation that your association needs.
That is it!
Muscle Imbalances Revealed is pending approval for CEUs and CECs. It has been approved for CEUs and CECs for these associations: 0.6 NSCA CEUs (#J1098), 0.7 ACE CECs (for 2012), 7.0 BCRPA, 7.0 BCAK CEC, 7.0 CMTBC, 7.0 and CSEP 7 PDC.
Don't worry if your association is not listed.
With well over 200 fitness associations, it is impossible to get approval from every association, but every association has a quick and easy way of petitioning a course for CEUs/CECs.
Most times it is a little form that needs to be filled out and I can help you with it.
Problem: No One Person or Professional Knows it All
I would like to think with all the schooling I have done, the conferences I have attended, the textbooks I have read and the research papers I have gone through, that I would know it all when it comes to muscle imbalances, rehab, training and performance.
But I don't.
It is not possible for one person to know everything when it comes to muscle imbalances, rehab, training, and performance.
It is not possible for even one professional to know all there is when it comes to muscle imbalances, rehab, training and performance.
Solution: 4 Experts in Rehab, Training & Performance from 7 Professions
Instead of just revealing all my tips, tricks & exercises when it comes to muscle imbalances, rehab, training and performance by myself, I sought out 3 other experts in the area: Tony Gentilcore, Dr. Jeff Cubos and Dean Somerset.
As I was searching out experts in the area, I discovered no one person or professional has all the answers when it comes to muscle imbalances in the upper body.
In Muscle Imbalances Revealed – Upper Body Edition – you get the perspective of a strength coach, corrective exercise specialist, kinesiologist, post rehab specialist, personal trainer, exercise physiologist and chiropractor.
In Muscle Imbalances Revealed, Tony, Jeff, Dean and Rick share their knowledge, experience, exercises and tips & trick when it comes to muscular imbalances of the upper body. This is all done with easy access downloadable video presentations.
Problem: Out of Date Performance, Training or Rehab Information
You may have got your certification a while back and wonder if your techniques are up to date. You may have textbooks from when you went to school but a lot of what is in them is now revised. You may have just gone to a conference and all you learned was how to use some new exercise gadget that you need to buy.
Solution: Rehab, Training & Performance Straight from the Trenches and Research
All of these guys are up to date with the latest research in their area of specialization. They have taken the research and applied it in real practice with real clients. Now they are giving you their cutting edge information, techniques and exercises, straight from the trenches.
Problem: Misplacing Your Files
Isn't it frustrating when you can't find where you saved your videos on your computer?
You end up spending hours looking for them or you have no way of getting another copy.
Solution: You Have Lifetime Access to MIRU
You don't have to worry about that with Muscle Imbalances Revealed. All the video presentations, handouts, CEC exams and updates are there when you need them today, or even in a few years time.
There are no time limits or additional fees to your membership.
You have lifetime access to the membership area of MIR where everything is there for you to access.
We are always updating MIRU and you get all those updates free to you.
Problem: Has this Program Helped Anyone?
With every new health and fitness education product that comes out, you wonder if it is going to work.
Solution: MIR has Helped Well Over 1827 Exercise Enthusiast and Health & Fitness Professionals from Around the World
MIR has helped exercise enthusiasts and health & fitness professionals from around the world.
Here is where some of the health and fitness professionals are from that have been helped by MIR:
Yes, MIR has helped exercise enthusiasts and health & fitness professionals in over 50 countries around the world.
If you want to see what other exercise enthusiasts and health & fitness professionals say about Muscle Imbalances Revealed, make sure to scroll down and read the rave reviews and testimonials.
Summarizing the Key Benefits of Muscle Imbalances Revealed:
Here are a few more benefits of Muscle Imbalances Revealed:
You can watch the video presentations at your own pace and go back to key points at your convenience
You can watch the video presentations on your own PC, Mac, iPad, iPod or smart phone
You don"t have to take time off work and lose money in order to attend a seminar, course or conference
You can watch the video presentation when it is convenient and best for you
You can download the video presentation to your PC, Mac, iPod, iPad or smart phone and watch it while waiting
You can learn new fitness education information from the convenience of your home
You can view the video presentations on a PC or Mac
You can download an MP3 of the video presentations and listen to it in your car, or on your iPod during your workout
You can earn continuing education credits from 6 different associations by watching the video presentations
Affordable way of learning new detailed and researched backed information for yourself, your clinic or fitness team
No time is wasted driving or flying to seminars, courses or conferences
No expensive and overpriced seminar, course or conference fees
Lifetime access to all of the rehab, training and performance video presentations
Unlimited access to all of the video presentations
This is not like most conferences where you get a hodge podge of information. MIR is focused, practical information that will help you and your clients right away
Plus you get lifetime access to MIRU