IC19 Clinical Demonstration 14 – Self-Hypnosis Training as a First Trance Experience – Bernhard Trenkle, Dipl. Psych
Course Description
Archive : [Audio and Video] IC19 Clinical Demonstration 14 – Self-Hypnosis Training as a First Trance Experience – Bernhard Trenkle, Dipl. Psych Digital Download
Salepage : [Audio and Video] IC19 Clinical Demonstration 14 – Self-Hypnosis Training as a First Trance Experience – Bernhard Trenkle, Dipl. Psych
Delivery : Online With Any Device
Topic Areas:

Clinical Demonstration

Bundles:

IC19 – All Video

Category:

Erickson Congress |  Erickson Congress 2019

Faculty:

Bernhard Trenkle, Dipl. Psych

Course Levels:

Master Degree or Higher in Health-Related Field

Duration:

1 Hour 04 Minutes

Format:

Audio and Video

Original Program Date :

Dec 14, 2019
Description
Description:
A well-known self-hypnosis technique will be taught in a way that it is at the same time a first trance induction for a client. There will be one demonstration client but at the same the whole group can learn the approach too. This includes an old oriental story of the lion who saw his face in the water. At the end it will be discussed how this approach can be tailored for individual clients and modified for many goals: treating chronic pain, phobias, sleeping disorders, etc.
Educational Objectives:
Demonstrate a self-hypnosis technique.
Describe 3 clinical problems the technique can used.
Describe 3 possiblities to modify a basic story for individual clients.
*Sessions may be edited for content and to preserve confidentiality*
Faculty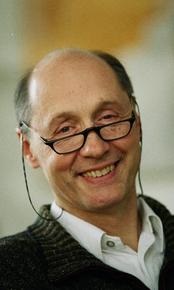 Bernhard Trenkle, Dipl. Psych Related seminars and products:
17
---
Bernhard Trenkle, DIPL.PSYCH., is Director of the Milton Erickson Institute Rottweil Germany, and member of the Board of Directors of the Milton Erickson Foundation. He is member of Board of Directors International Society of Hypnosis ISH and past President of Milton Erickson Society of Clinical Hypnosis Germany (1996-2003). Author of Ha Ha Handbook of Hypnosis and Psychotherapy a bestselling joke book in Germany (now translated in English, Russian, and Italian).
---
More from Categories : Medical