Anne Procyk – 3-Day: Nutrition for Mental Health Comprehensive Course
Course Description
Archive : Anne Procyk – 3-Day: Nutrition for Mental Health Comprehensive Course Digital Download
Salepage : Anne Procyk – 3-Day: Nutrition for Mental Health Comprehensive Course
Delivery : Online With Any Device
Faculty:

Anne Procyk

Duration:

16 Hours 41 Minutes

Format:

Audio and Video

Copyright:

Jun 19, 2019
Description
Here's what you'll learn in this comprehensive training …
Improve mood and behavior in clients using micro- and macronutrients
Ideas for practical, affordable and individualized diets along with optimal cooking methods and recipes
Safely and ethically apply integrated and nutritional medicine within your professional discipline's scope of practice
Improve assessment by learning to differentiate between a clinical presentation of mental illness vs. nutritional and/or hormonal imbalances
Customize treatment plans through six unique nutrition methods for clients with mood lability
Nourish both the brain and the gut, , the "second brain" through key nutrients
Learn to identify gluten and casein sensitivity with the presentation of depression, psychosis and ASD in clients
Implement evidence-based protocols for nutrition and herbal approaches for six DSM-5® categories
Evaluate how client eating patterns may influence their mental health by using a food-mood assessment tool
Increase compliance by using the DSM-5® Cultural Formulation tool to inform your treatment planning process
Prevent side effects of polymedicine use through evaluation of drug-nutrient-herbal interactions
Decrease dissociative symptoms in clients through stage-specific anaerobic and aerobic exercise and self-care methods
Improve focus for clients with anxiety disorders with breathing techniques to reduce hyperventilation
Adapt complementary and alternative methods for children and teens with behavioral and mental health disorders such as ADHD and ODD
Learn when psychotropic medications, herbal medicines, and nutrients can be harmful to clients
Improve anxiety and depression symptoms with essential fatty acids
Discover how circadian rhythm contributes to depression, PTSD and bipolar disorder
Evaluate the impact of blood sugar and genetic variations on mental health disorders and effective treatment
Handouts
| | | | |
| --- | --- | --- | --- |
| | Manual – Nutrition for Mental Health (33.3 MB) | 57 Pages | Available after Purchase |
Outline
The Complex Relationship Between Mental and Physical Health
How Foods Affect Moods
Carbohydrates – A new way to think about cravings
Effects protein may have on depression and anxiety
Fats for mental health (depression, ADHD, bipolar)
The connection between food, depression and anxiety
Vitamins: B-Vitamins, 5-MTHF, Vitamin D
Minerals: Magnesium, calcium
Nutrition, Diet and Culinary Medicine
Food as "brain-mind-medicine"
Fats: Essential fatty acids, toxic fats, fish oil
Protein: the building blocks of happiness
Nutrients to improve mental health and cognitive function
Vitamins, minerals, glandulars, and special nutrients for the non-nutritionist
Regulate hormonal imbalance
Balance blood sugar to balance mood
Cultural and genetic variations
Enhance digestion for mental health
Thyroid function and mental health
The Truth About Popular Supplements and Herbal Medicine
Seven major herbs for PTSD, anxiety, depression, sleep, and cognitive health
Endocannabinoid deficit theory
Cannabis and psychedelic medicine
THC versus CBD
Evidence for medical cannabis for mental health PTSD and chronic pain
Adaptogens: Ginseng, licorice, ashwaganda
Melatonin
Smell, mood, and cognition
Evidence for essential oils to alter mood and cognition
Interactions with pharmaceuticals
Physiological Factors of Depression, Anxiety, Bipolar and ADHD
Transcending mind-body separation: Understanding the complex relationships
The factors that cause "chemical imbalance"
Beyond pharmaceutical management
Balancing circadian rhythm
Apply breathing exercises for mental health
Enhance sleep and address insomnia
Assessments and Evidence-Based Research
Assessments Using Integrative Approaches
Conduct a basic nutritional food/mood assessment
Conduct an adrenal stress and biological rhythm assessment
Culture and ethnicity assessment and treatment
The Cultural Formulation Interview and CAM methods
Basic lab tests for optimal mental health
Simple Screening Tools to Identify Nutritional Deficiencies Contributing to:
Anxiety and PTSD
Depression
ADHD
Fatigue
Anger
Bipolar disorder
Lack of mental clarity
Other mental health concerns
Recognizing When "Mental Illness" is Something Else
Hormonal imbalance
Anxiety vs. hypoglycemia
Inflammation
Digestion
Depressed, fatigued or malnourished?
Side effects of medications
Symptoms of Nutritional Deficiencies and Co-Morbid Conditions
Strategies to reduce inflammation: The major factor in depression, anxiety, bipolar, and ADHD
Chronic illness, fibromyalgia
Anxiety and digestion
The Second brain: Microbiome, probiotics and GABA, and anxiety
Sleep, adrenal health, and rhythms
Anger, alcohol abuse and liver health
Genetics, depression and brain
PTSD and auto immune, addictions and cognition
ADHD, ASD, and food sensitivities
Integrative approach recovery from addictions
Clinical Applications – Non-Pharmaceutical Treatment Strategies
Holistic Treatment Interventions
Address clients concerns and provide alternatives to psychotropics
Herbal medicine for mental health
Strategies for clients who want to stop their medications
Ayurvedic medicine and mental health
Exercise: Elevate serotonin and regulate stress hormones
Sound and music for insomnia, anxiety and anger
Toning, binaural music
Comprehensive Non-Pharmaceutical Treatment Plans and Protocols for:
Depression & Seasonal Affect Disorder
Anxiety, PTSD, and complex trauma
Bipolar
ADHD
Body dysmorphia
OCD
Bulimia
Insomnia
Addictions
Obesity
Psychosomatic symptoms
Pre-menstrual syndrome and menopausal symptoms
Practical Tools to Accelerate Treatment Results, Improve Energy, and Gain Mental Clarity
Food: The Good, the Bad, and the Fake
Sleep: The 4 habits critical to refreshing sleep
Exercise: Elevate serotonin and regulate stress hormones
Stress: A Holistic Approach
Feed your brain
What You Need to Know about Somatic Therapies
The spectrum of somatic and bodywork therapies
Acupuncture
The NADA protocol for addictions
Cranial electrical stimulation for PTSD, insomnia, and optimal cognition
When to refer
Unique Issues Across the Lifespan
Children: Supporting sleep, focus, mood and attention
Alternatives to psychotropics for ADHD
Middle life: Peri-menopause, menopause, andropause
Preventing cognitive decline
Nutrition and integrative methods to support people with dementia and their caregivers
Apply Techniques Within Your Scope of Practice
Ethics, law and competency
Nutritional therapies
Culinary medicine
Behavioral medicine
Nutritional supplementation
Herbal medicine
Hydrotherapies for mood management
Bodywork therapies
Acupuncture and cranial electrical stimulation
Sound and music for insomnia and mood
Stage appropriate yoga for anxiety, pain and PTSD
Integrative detoxification for addiction
Build an Integrative Health Team
When and where to refer clients
How to find the right provider
Questions to ask before referring
Develop a niche practice as a certified specialist
Professional organizations and more training
Controversies and hot topics
Faculty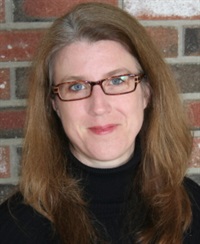 Anne Procyk, ND Related seminars and products:
2
Medical Director
---
Dr. Anne Procyk, ND is a naturopathic physician practicing nutritional and integrative medicine to treat mental health disorders at Third Stone Integrative Health Center.  She is on the forefront in understanding the complex relationships between physical and mental health. Dr. Procyk's thorough understanding of the latest research combined with her daily clinical experience give her the ability to translate voluminous and sometimes contradictory information into clear and effective strategies for real world patients.
She has given numerous lectures, has been featured in a number of books and made several television appearances. Dr. Procyk is a sought after leading expert on integrative strategies for dealing with depression, bipolar, and ADHD. She is also the author of Nutritional Treatments to Improve Mental Health Disorders: Non-Pharmaceutical Interventions for Depression, Anxiety, Bipolar & ADHD (PESI, 2018). She is a dynamic speaker who will inspire you to apply your new tools and transform your practice.
Dr. Procyk founded and currently sees patients at Third Stone Integrative Health Center in Essex, CT.  She earned her doctorate at National College of Naturopathic medicine and graduated cum laude from Carleton College with degrees in chemistry and medical ethics. She is a member of the American Association of Naturopathic Physicians, the Connecticut Naturopathic Physicians Association, and the Association for the Advancement of Restorative Medicine.
Speaker Disclosures:
Financial: Dr. Anne Procyk is the Medical Director at Third Stone Integrative Health Center.  She receives a speaking honorarium from PESI, Inc.
Non-financial: Dr. Anne Procyk is a member of the American Association of Naturopathic Physicians; and the Connecticut Naturopathic Physicians Association.
---
More from Categories : Health & Fitness